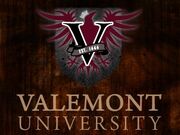 For the human students Valemont is a regular college.
For its vampire students Valemont not only offers normal classes of their choice but they are also required to take classes to learn about themselves, their and the other houses and how to interact with humans
The history of Desmodus vampera
vampire and human relations 101
Ad blocker interference detected!
Wikia is a free-to-use site that makes money from advertising. We have a modified experience for viewers using ad blockers

Wikia is not accessible if you've made further modifications. Remove the custom ad blocker rule(s) and the page will load as expected.