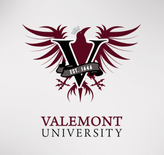 Description
Edit
The show follows Sophie Gracen (Kristen Hager) as she infiltrates Valemont University,( an exclusive and distinguished East Coast college that her brother Eric (Eric Balfour) attended before disappearing mysteriously. As Sophie delves deeper into the mystery of her brother's disappearance from school, taking the name Sophie Fields so her brother's friends won't discover her identity, more details emerge about her family and the origins and secrets of the elite Valemont students. The show also co-starsDillon Casey, Nikki Blonsky, and Jessica Parker Kennedy , and features music from Irish rock band Fight Like Apes.
Each of the 5 episode begins with a video clip or text message from Eric's mobile device. The phones provide clues to characters and events in the show these clips are also spread through out the episodes. In addition, a five second Verizon Wireless billboard will close each new episode of Valemont, driving to additional exclusive content on V CAST.
Ad blocker interference detected!
Wikia is a free-to-use site that makes money from advertising. We have a modified experience for viewers using ad blockers

Wikia is not accessible if you've made further modifications. Remove the custom ad blocker rule(s) and the page will load as expected.